Marbella Puerto Banus is proud to have many repeat customers and recommendations, thanks to our commitment to exceptional customer service. We prioritize prompt responses to all inquiries, ensuring you receive a reply within one hour. When you book your transfer from Malaga Airport to Elviria with us, you can expect affordable rates and a hassle-free experience. Start your vacation by allowing Estepona Transfer to arrange a safe and reliable taxi service from Malaga Airport to Elviria.
At Marbella Puerto Banus Airport Taxis, we know how important it is for our guests that we arrive on time. This is why our customers repeatedly choose us for their transfers from Malaga Airport to Elviria—we offer unrivalled reliability. By booking in advance, you can eliminate any travel concerns. Remember that we do not charge reservation fees; pay the agreed-upon fare to your driver in advance—it's as simple as that.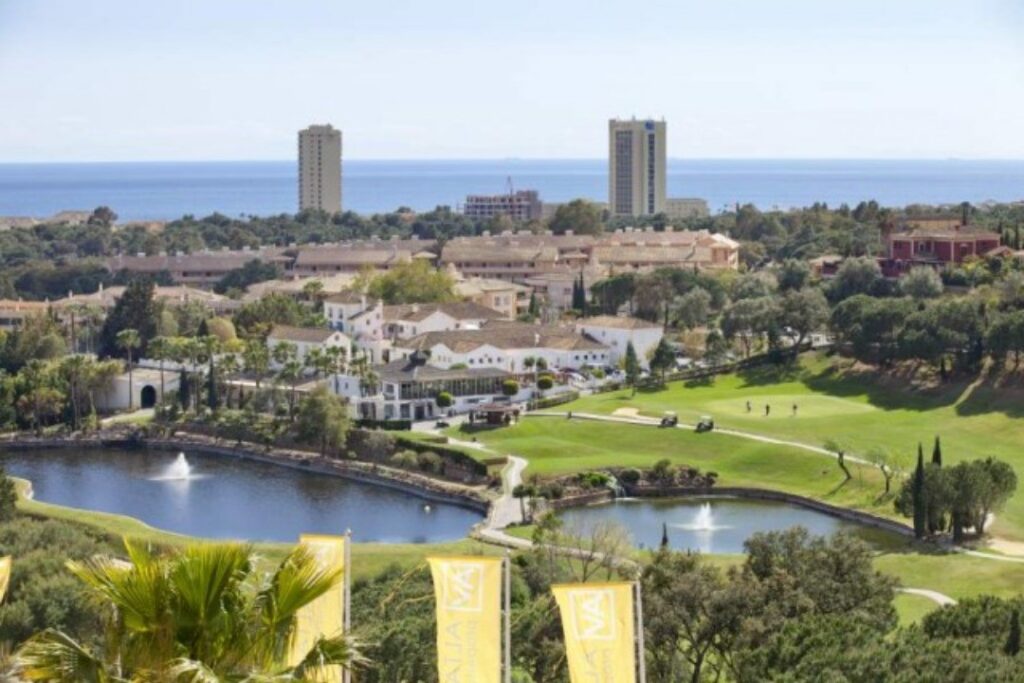 Introduction to Elviria
Located approximately 6 kilometres from the centre of Marbella and 44 kilometres from Malaga International Airport, Elviria is a prestigious residential area known for its luxurious ambience. While Elviria may not have specific landmarks to visit, it exudes an air of luxury that attracts many affluent individuals, including famous figures like Sergio Ramos (captain of Real Madrid) and international singer Julio Iglesias.
Elviria offers various services and amenities, including shops, restaurants, and bars. The area is lush with vegetation, predominantly native pines and cork oaks. The landscape comprises villas and some low-rise luxury apartment complexes nestled among them.
The hills of Elviria, namely La Mairena and El Soto de Marbella, provide breathtaking views of the Sierra Nevada, the Mediterranean Sea, the Rock of Gibraltar, and the African coast. Additionally, Elviria is encompassed by the UNESCO biosphere reserve known as the Sierra de las Nieves.
For golf enthusiasts, Elviria boasts three main golf courses:
Santa Maria Golf & Country Club
Greenlife Golf Club
El Soto Golf & Country Club
Tennis is also well-represented in Elviria, with tennis courts at the Don Carlos Hotel and the Hoffman Tennis Academy in La Mairena.
Moreover, Elviria features five luxury hotels, including:
Five-Star:
Marriott's Marbella Beach Resort
Don Carlos Leisure Resort & Spa
Vincci Estrella del Mar Selection
Elviria Amazon Adventure
If you're looking for an exhilarating adventure amid nature during your stay in Elviria, we recommend visiting Amazonia Adventure. This adventure park offers an unbeatable opportunity to enjoy physical activity while creating lasting memories with your family and children.
Amazonia Adventure is the biggest adventure park in Andalusia and the only one along the coast. It is less than 500 metres from the beach. You'll find plenty of excitement with over 80 tree-based games and 20 zip lines spread across six adventure circuits—MiniKids, Kids, Explorer, Jungle, Adventure, and Sports. Notably, Aventura Amazonia boasts the longest tree-to-tree zip line in Andalusia, spanning nearly 250 meters.
For younger adventurers aged 4 to 7, the MiniKids area provides thrilling games, a handicraft workshop, and age-appropriate zip lines. Parents can also take advantage of the daycare service offered here, allowing them to tackle the circuits while ensuring their little ones are well cared for.
With a single entrance ticket, you can enjoy up to 3 hours of adventure, allowing for multiple runs through the circuits. The park also features a cafeteria and a commercial area with shops and restaurants located within 100 meters.
Furthermore, Elviria offers various dining options and hotels suited to various budgets and preferences.
Elviria Beach Resort
Elviria is also known for its beautiful beachfront and offers an array of beach resorts for visitors to enjoy. One notable option is the Elviria Beach Resort. Situated along the pristine coastline, this resort provides a perfect combination of luxury and relaxation. Guests can enjoy stunning ocean views, pristine sandy beaches, and various amenities and services. Whether seeking a romantic getaway or a family-friendly vacation, Elviria Beach Resort offers an unforgettable experience.
Water Sports and Outdoor Activities
Elviria is a great place for people who like water sports and exploring the outdoors. With its proximity to the Mediterranean Sea, visitors can engage in various activities, such as swimming, snorkelling, diving, and jet skiing. The crystal-clear waters and gentle waves provide an ideal environment for water-based adventures.
For those who prefer to stay on land, Elviria offers numerous opportunities for hiking, biking, and exploring the surrounding area's natural beauty. The nearby Sierra de las Nieves biosphere reserve presents breathtaking landscapes, diverse flora, and fauna, making it a paradise for nature lovers.
Gastronomy and Nightlife
Elviria boasts a vibrant culinary scene, with many restaurants offering various cuisines to suit every palate. From traditional Spanish tapas to international fusion dishes, there is something to satisfy every craving. So indulge in the fresh seafood delicacies or savour the flavours of local Andalusian cuisine.
When the sun sets, Elviria comes alive with its lively nightlife. Enjoy a cocktail at one of the beachfront bars or dance the night away at one of the vibrant nightclubs. So whether you're seeking a relaxed evening by the sea or an energetic night out, Elviria offers diverse entertainment options to suit all preferences.
Conclusion
In summary, Elviria is a prestigious residential area near Marbella that attracts visitors with its luxurious ambience, beautiful beaches, and abundant amenities. From world-class golf courses to thrilling adventure parks, there is no shortage of activities to enjoy. Whether you're seeking relaxation, outdoor adventures, gastronomic delights, or vibrant nightlife, Elviria has something for everyone. So make your transfer from Malaga Airport to Elviria with Marbella Puerto Banus Airport Taxis and embark on an unforgettable vacation in this captivating destination.