At Marbella Puerto Banus Airport Taxis, we take pride in our high customer satisfaction rate, with many clients becoming repeat customers and recommending our services. We have achieved our growth by delivering exceptional customer service and promptly addressing all your inquiries.
So book your transfer from Malaga Airport to Cabopino with us and experience affordable and reliable Marbella Puerto Banus Airport Taxis for you, your family, and your friends. Let us organize a safe and hassle-free taxi ride from Malaga Airport to Cabopino, ensuring you start your vacation in the best possible way.
We understand the importance of punctuality for our passengers, so our customers choose us repeatedly for their transfers from Malaga Airport to Cabopino. By booking in advance, you can leave your travel worries behind. Remember, we don't charge any reservation fees. Instead, pay the agreed-upon fare to your driver in advance. It's as simple as that!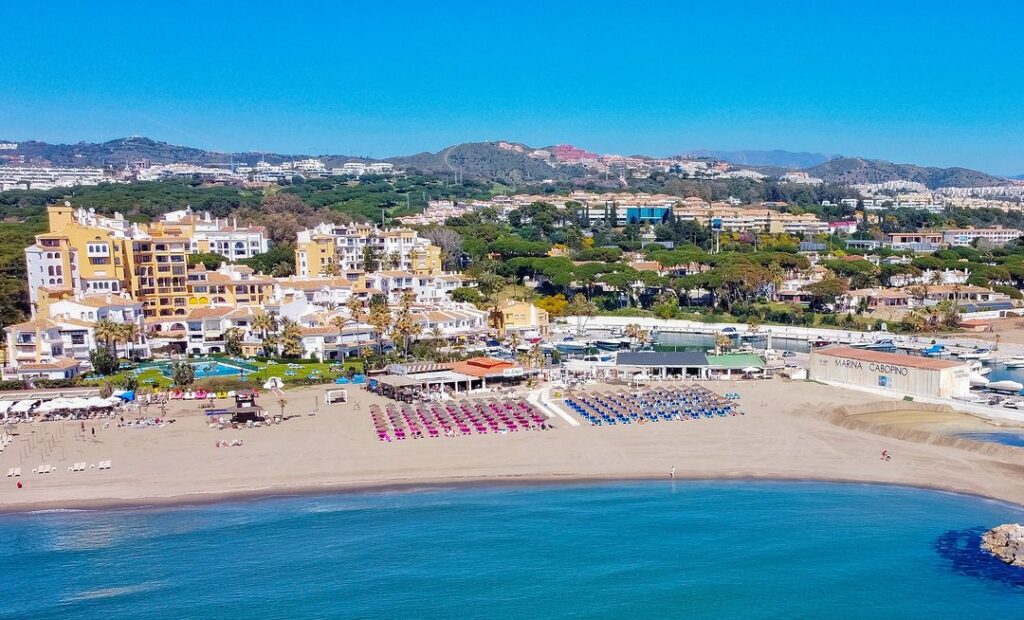 Introduction to Cabopino
Cabopino enjoys a warm and temperate climate with minimal rainfall during the winter months. The Köppen and Geiger classification for this area is Csa. The average annual temperature in Cabopino is 17.8°C, with approximately 602 mm of rainfall. July is the driest month, with just 1 mm of precipitation, while December receives the highest amount of rainfall, averaging 104 mm. August is the hottest month, with an average temperature of 24.7°C, while January is the coldest, with an average temperature around 12.2°C.
Gastronomy in Cabopino
The gastronomy in Cabopino is influenced by its proximity to the mountains and the sea. As a result, it offers a delightful combination of mountain produce and seafood. During the summer, popular dishes include Gazpacho and Ajoblanco, refreshing cold soups. In winter, Sopa Campera is a recommended option. Another typical dish is the Malaga-style Salad, featuring fresh ingredients such as potatoes, tomatoes, peppers, onions, and cod or tuna. It's a must-try dish renowned for its flavours.
Sights to Visit in Cabopino
Torre Ladrones: Located on the Puerto de Cabopino beach in Marbella, Torre Ladrones is a tower with a rich history. Built during the Arab Domination period, it features three rooms and a rooftop. Originally constructed for defence purposes, it now stands as a cultural attraction. In 1985, it was declared a Good of Cultural Interest and remains one of the most visited sites in Marbella.
Cabopino Beach: Situated in Marbella, Cabopino Beach is a tranquil beach known for its moderate waves, golden sand, and natural beauty. Spanning approximately 1,200 meters in length and 30 meters in width, it is located within the protected area of Dunas de Artola and is also known as a nudist beach.
Dunas de Artola: The Artola Dunes, also known as Cabopino Dunes, are a unique natural enclave on the east coast of Marbella. Despite the surrounding urbanization, the Andalusian Government has designated this area a Natural Monument since 2001. Visitors can explore different types of dunes, including mobile dunes, inactive mobile dunes, and fossil dunes. The dunes showcase fascinating vegetation adapted to harsh conditions, offering a remarkable natural experience.
Cabopino Golf Courses
The Costa del Sol, often called the Costa del Golf, is renowned for its excellent golf courses that can be enjoyed year-round thanks to the favourable climate. The Cabopino Golf Course is located at the eastern end of Marbella, overlooking the Cabopino marina.
This 18-hole course, designed by architect Juan Ligués Creus, offers stunning sea views. With a mix of par 3s, par 4s, and par 5s, it caters to players of all levels. Hole 14, a par 5 with a wide and undulating green guarded by lakes, and hole 3, a par 4 featuring a high tee and green surrounded by bunkers at approximately 80 meters, are particularly noteworthy.
The course also houses a Golf School with excellent facilities, including greens, bunkers, practice areas, and more, making it suitable for experienced and beginner players.
Conclusion
If you're planning a trip from Malaga Airport to Cabopino, look no further than Marbella Puerto Banus Airport Taxis for your transportation needs. With our reliable and hassle-free transfer services, you can book with confidence and embark on a journey to discover the beauty of Cabopino.
Not only does Cabopino offer natural beauty, but it also boasts a delightful gastronomy scene. Indulge in the local cuisine, which features fresh seafood, traditional Spanish dishes, and international flavors. From charming beachfront restaurants to cozy tapas bars, there's a culinary delight to satisfy every palate.
To book your transfer and start your unforgettable journey to Cabopino, simply reach out to us at Marbella Puerto Banus Airport Taxis or Contact Us. Our dedicated team is ready to assist you and ensure a seamless travel experience. Discover the wonders of Cabopino with ease and create memories that will last a lifetime.