Estepona Transfer is a highly recommended service provider known for its exceptional customer service. We take pride in our high percentage of repeat customers and referrals, which speaks to the quality of our transfers. So when you choose us from Malaga Airport to San Pedro de Alcantara, you can expect a safe, reliable, and hassle-free experience.
At Marbella Puerto Banus Airport Taxis, we know how important it is for our guests that we arrive on time. That's why our customers trust us repeatedly, thanks to our reliability. By booking in advance, you can avoid any travel problems and have peace of mind knowing that we'll be there to pick you up and drop you off at your final accommodation. In addition, we believe in transparency, and there are no hidden reservation fees. Instead, you pay the agreed-upon fee to your driver, making the process straightforward.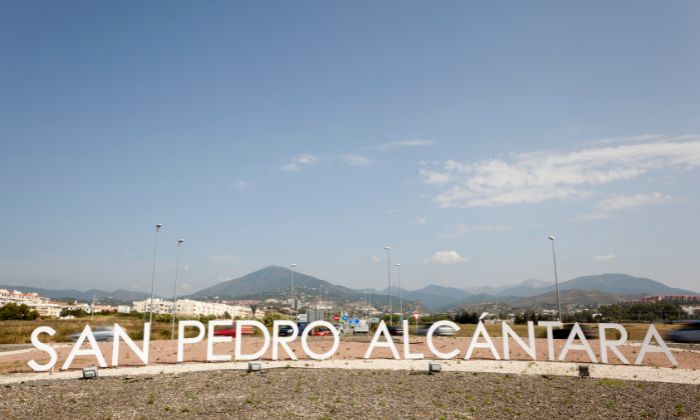 Exploring the Charms of San Pedro
San Pedro de Alcantara offers a pleasant microclimate throughout the year, making it an ideal destination. With an average annual temperature of around 20 degrees Celsius and over 300 sunny days, you can enjoy the pleasant weather almost any time you visit. While the winters have average daytime temperatures of around 14 degrees Celsius, the summers can exceed 30 degrees Celsius. The rainy season is more frequent from November to January.
When it comes to gastronomy in San Pedro de Alcantara, there are several must-try dishes that we recommend. These dishes showcase the local flavours and will make your dining experience memorable. Some of the favourites include:
Gambas al pilpil: This dish features prawns cooked in hot olive oil with garlic and chilli. It can be enjoyed as an entree, main course, or tapa.
Espetos de sardinas: A traditional speciality of Malaga, sardines are skewered and roasted over an open fire on a traditional fishing boat converted into a barbecue.
Boquerones: Marinated anchovies served with vinegar, olive oil, and garlic. They are a popular choice as a tapa or starter.
Fritura Malagueña: A selection of locally fried fish lightly coated in flour and salt, served with a slice of fresh lemon.
Queso Curado: Cured cheese made with sheep or goat's milk, often enjoyed with Serrano ham.
Gazpacho: A refreshing cold tomato soup that is particularly delicious in Malaga. Regarding dining, San Pedro de Alcantara offers some excellent seafood restaurants and beach bars where you can savour these dishes. Here are a few recommendations:
Bar Casa Canuto: This restaurant is known for its fried fish, seafood, and generous portions at great value.
Merchant House: A family-owned restaurant in the historical centre of San Pedro de Alcantara, offering traditional and homemade cuisine focusing on fried food.
Restaurant Chinales: A typical Andalusian restaurant with a terrace on a pedestrian street, known for its value for money and recommended dishes like prawns and espetos.
Ranchero Restaurant: This Mediterranean and Spanish restaurant offers a unique twist on traditional dishes, such as grilled salads and perfectly prepared grilled sea bass.
San Pedro de Alcantara also boasts fantastic beachside chiringuitos to enjoy the coastal atmosphere and your favourite drinks. Here are a few popular options:
Kalakalua Beach Bar:  With a rich history dating back to 1957, this chiringuito offers stunning views of the Mediterranean Sea and serves traditional Andalusian food.
Dantonelas:  Located on the beachfront, this indoor restaurant offers a cosy and inviting atmosphere. Indulge in delicious seafood dishes, including grilled fish, prawns, and octopus, while enjoying the sound of the waves.
Bora Bora Beach Club: This vibrant beach club is known for its lively atmosphere, DJ music, and beachside loungers. Enjoy a variety of Mediterranean and international dishes, along with a wide selection of cocktails and refreshing drinks.
El Ancla Beach Club:  Situated on the beach with beautiful panoramic views, this beach club offers a luxurious setting and excellent service. Sample their delicious seafood platters, grilled meats, and creative cocktails while soaking up the sun.
Chiringuito Guayaba: Located on the sandy shores of San Pedro de Alcantara, this chiringuito offers a relaxed and friendly atmosphere. Enjoy the beautiful beach surroundings and enjoy fresh seafood, tasty tapas, and refreshing drinks.
These are just a few of the many dining options available in San Pedro de Alcantara. Whether you're looking for traditional Andalusian cuisine, seafood specialities, or international flavours, you'll find many restaurants and chiringuitos to satisfy your cravings.
I hope you have a wonderful time exploring the culinary delights of San Pedro de Alcantara!
Conclusion : 
Choosing Marbella Puerto Banus Airport Taxis for your transfers from Malaga Airport to San Pedro de Alcantara guarantees a reliable and hassle-free experience. With our exceptional customer service and transparent pricing, you can trust us to provide a safe and timely journey. Enjoy the pleasant microclimate of San Pedro de Alcantara and indulge in the delicious local cuisine for a memorable trip. Call us today to book your ride @+34644520950 or WhatsApp @+34644520950