Welcome to Puerto Banus Marbella ! Whether you're arriving or departing, we want to ensure that your journey is as smooth and enjoyable as possible. That's why we have compiled all the essential information you need to know about Puerto Banus Marbella Airport, including transportation options, facilities, and nearby attractions. With this comprehensive guide, you can plan your trip with confidence and make the most of your visit to this vibrant destination.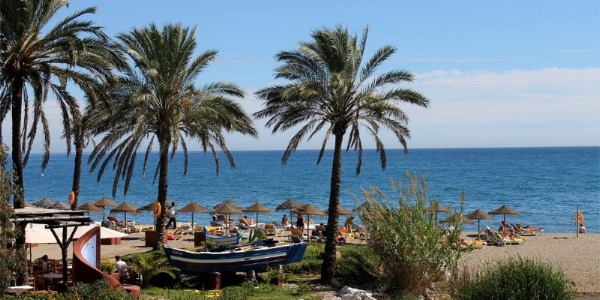 Exploring Puerto Banus Marbella
Dive into the vibrant culture and stunning beauty of Puerto Banus Marbella. Discover the best attractions, dining spots, shopping areas, and more. Plan your itinerary, learn about local customs, and make the most of your visit to this captivating destination.
Marbella, a must-visit place for travelers, is a destination that unveils an array of charms waiting to be discovered. From pristine beaches to historical sites, fine dining to vibrant nightlife, Marbella offers an extraordinary experience that will captivate your senses.
The 5 Best Beaches in Marbella You Can't Miss!
Puerto Banús Beach: This 1km long beach in the exclusive marina is perfect for water sports like jet skiing or parasailing. Be sure to visit at sunset for breathtaking views!
Nueva Andalucía Beach: With 1.5km of golden sand and crystal-clear waters, this family-friendly beach is perfect for picnics and relaxing swims. Visit early in the morning for a peaceful start to your day.
San Pedro de Alcántara Beach: Located in the city center, this popular beach is a great spot for beach volleyball, soccer, and tasting local cuisine at the beach bars.
Cabopino Beach: This natural and protected beach with sand dunes and stunning landscapes is perfect for nature lovers. Visit early in the morning to see the sun rise over the dunes!
Faro Beach: One of the smallest but most charming beaches in Marbella, Faro Beach is a peaceful spot to relax and enjoy the sun and sea. Be sure to catch a stunning sunset over the Mediterranean Sea in the afternoon.
No matter what your preference, Marbella has a perfect beach for you! Come and discover the natural beauty of Marbella on your next vacation.
Beach Bliss: Indulge in the sun-drenched beaches of Marbella, where golden sands meet crystal-clear waters. Relax under the Mediterranean sun, take refreshing dips in the sea, or enjoy thrilling water sports activities.
Old Town Splendor: Immerse yourself in the rich history and culture of Marbella by strolling through its enchanting Old Town. Wander along narrow cobblestone streets, admire the picturesque squares adorned with vibrant flowers, and explore centuries-old architecture.
Gastronomic Delights: Marbella is a haven for food enthusiasts, boasting a vibrant culinary scene. From traditional tapas bars serving mouthwatering Spanish dishes to Michelin-starred restaurants offering innovative gastronomic creations, you'll embark on a delectable journey for your taste buds.
Shopping Extravaganza: Experience the height of luxury shopping in Marbella. Explore the glamorous boutiques of Puerto Banus, where renowned fashion brands and high-end designers showcase their latest collections. Indulge in retail therapy amidst a backdrop of luxury yachts and designer stores.
Nightlife Vibes: As the sun sets, Marbella comes alive with its pulsating nightlife. From chic beach clubs and trendy rooftop bars to world-class nightclubs, immerse yourself in the electrifying atmosphere of Marbella's after-dark scene.
Outdoor Adventures: Marbella is an outdoor enthusiast's paradise, offering a range of activities for nature lovers. Embark on exhilarating hikes in the nearby Sierra Blanca Mountains, tee off at world-class golf courses, or indulge in water sports along the coast.
Marbella truly encapsulates the essence of a dream destination, where beauty, luxury, and a vibrant atmosphere converge. Whether you're seeking relaxation, exploration, or indulgence, Marbella promises an unforgettable experience that will leave you yearning for more.
Puerto Banus
Explore the glamorous haven of Puerto Banus on the Costa del Sol, where luxury and sophistication converge. Immerse yourself in a world of opulence and discover the captivating allure of this renowned destination.
Luxury Yachts: Marvel at the impressive display of luxury yachts that adorn the marina. From sleek and elegant vessels to extravagant superyachts, Puerto Banus is a playground for the wealthy and famous. Take a leisurely stroll along the waterfront and admire these floating works of art.
Designer Boutiques: Indulge in a premier shopping experience as you peruse the exclusive designer boutiques that line the streets of Puerto Banus. From renowned fashion houses to haute couture brands, you'll find a wealth of high-end fashion and accessories to satisfy your discerning tastes.
Fine Dining: Delight your palate with an exquisite culinary journey in Puerto Banus. The area is home to a plethora of gourmet restaurants, offering a fusion of international cuisines and innovative gastronomic creations. Savor delectable dishes prepared by world-class chefs and experience gastronomic excellence at its finest.
Vibrant Nightlife: As the sun sets, Puerto Banus comes alive with its vibrant nightlife. Experience the pulsating energy of trendy bars, stylish lounges, and exclusive nightclubs. Dance the night away to the beats of renowned DJs and mingle with the fashionable crowd that frequents this glamorous hotspot.
Beachfront Bliss: Unwind on the sun-kissed beaches of Puerto Banus, where golden sands and azure waters create a picturesque backdrop. Relax in luxurious beach clubs, soak up the Mediterranean sun, or indulge in refreshing cocktails as you bask in the coastal paradise that surrounds you.
Luxury Experiences: Elevate your stay in Puerto Banus with bespoke luxury experiences. From private yacht charters and helicopter tours to VIP access to exclusive events, immerse yourself in the epitome of refined living and create unforgettable memories.
Puerto Banus is a testament to the allure of luxury and elegance. Lose yourself in its glamorous ambiance, embrace the sophisticated lifestyle, and revel in the lavishness that awaits you at every turn.
Puerto Banus Marbella Transportation Options
Airport Taxi: Upon your arrival, you can conveniently hop into a reliable airport taxi to reach your accommodation or any other destination in Puerto Banus Marbella. Marbella Puerto Banús Airport Taxis drivers will ensure a comfortable and hassle-free journey.
Transfers: If you prefer pre-arranged transportation, Marbella Puerto Banus transfer services are at your disposal. Book a transfer to enjoy a stress-free journey to your hotel, explore the local attractions, or catch a flight on time.
Facilities at Puerto Banus Marbella Airport:
Terminal Amenities: Our airport boasts a range of amenities to enhance your travel experience. From duty-free shopping and restaurants serving local delicacies to currency exchange and car rental services, we have everything you need under one roof.
Passenger Services: We prioritize your comfort and convenience. Our friendly staff is available to assist you with any inquiries or special requirements you may have during your time at the airport.
Nearby Attractions:
Puerto Banus: Once you've settled in, don't miss the chance to explore the glamorous haven of Puerto Banus. Known for its luxury yachts, designer boutiques, and vibrant nightlife, this marina town offers a unique blend of elegance and excitement.
Marbella: Just a short distance away, you'll find the enchanting city of Marbella. From its stunning beaches and historic old town to its world-class golf courses and Michelin-starred restaurants, Marbella promises an unforgettable experience.
Why choose Marbella Puerto Banus Airport Taxis?
Opt for Marbella Puerto Banus Airport Taxis for your car rental needs and enjoy the following benefits:
Flexibility without extra fees: Experience hassle-free booking with full cash refunds and no need for vouchers. Marbella Puerto Banus Airport Taxis accommodates your changing plans with ease, offering hassle-free booking adjustments and cancellations without imposing additional charges, ensuring a stress-free travel experience.
Affordable coverage options: We offers competitive pricing and a variety of coverage plans to suit your needs, providing peace of mind without breaking the bank during your travels.
Uncompromised safety: We prioritizes your well-being by maintaining a fleet of secure, well-maintained vehicles and employing professional drivers, ensuring a safe and comfortable ride to your destination.
First-class service: Experience exceptional and luxurious transportation with Marbella Puerto Banus Airport Taxis, offering prompt, reliable, and personalized service for a seamless journey to your destination.
Plan your trip to Puerto Banus Marbella Airport with confidence, knowing that all the necessary information is at your fingertips. Discover the transportation options, take advantage of the airport's facilities, and explore the nearby attractions that make this destination so vibrant. Whether you're here for leisure or business, we're committed to ensuring that your visit is a memorable one. Bon voyage!